Dienstag 1.2
Tomomi Adachi – voice + electronics
Nikolaus Neuser – trumpet
Nicola Hein – guitar
Antti Virtaranta – bass
Mittwoch 2.2
JD Zazie – playback devices
Antti Virtaranta – bass
Dr. Nexus – voice
Antti Virtaranta – bass
Adam Goodwin – yayli tanbur + guitar
Antti Virtaranta – bass
Borys Slowikowski – percussion
Donnerstag 3.2
Mateusz Rybicki – sax + clarinet
Antti Virtaranta – bass
Sam Hall – drums
Freitag 4.2
Mat Pogo – voice
Antti Virtaranta – bass
Marcello Busato -drums
Mateusz Rybicki – sax + clarinet
Brad Henkel – trumpet
Rieko Okuda – piano
Samstag 5.2
Alberto Cavenati – guitar
Antti Virtaranta – bass
Quentin Cholet – drums
Matthias Müller – trombone
Antti Virtaranta – bass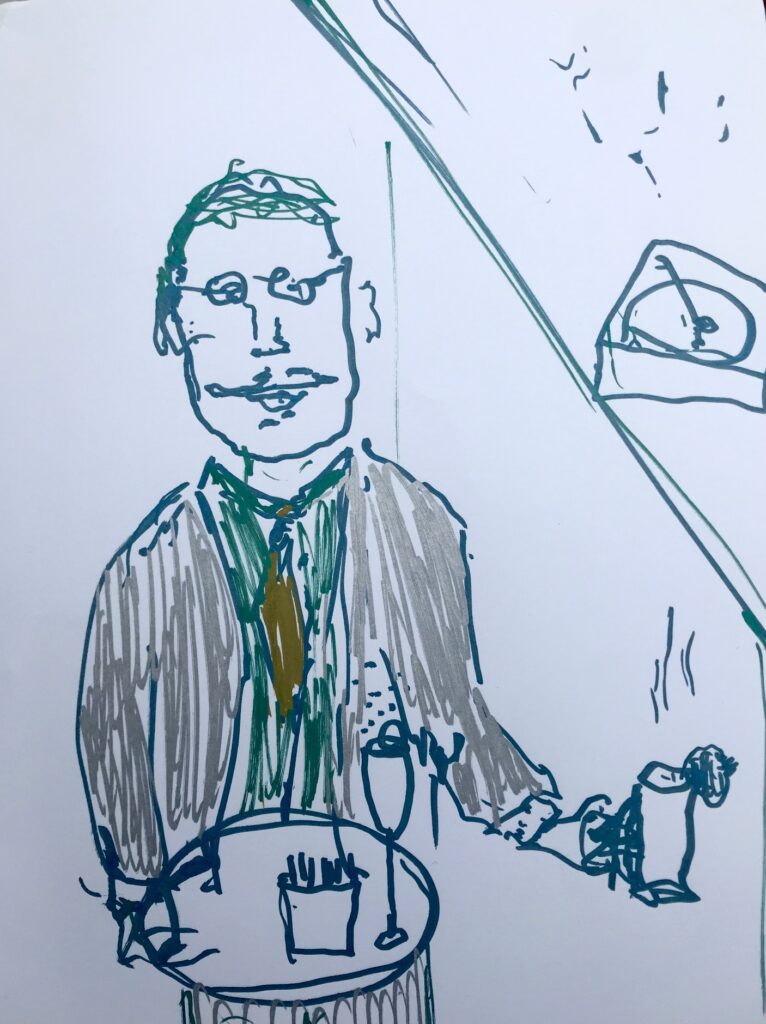 Our Barmann of the week, 
Monsieur Verlierer von Marseille,
curates the daily cure!
Every night a different special drink on discount!
Every night the finger food to match the drink!
Every night a musical atmosphere that fits the mood!
>From 17UHR and on and on and on!
Menu
Tuesday 1.2:
From Russia to Senegal
(Vodka and Senegalese touba coffee)
Pickled cucumbers and dry fruits
Traditional music from Russia to Senegal
Wednesday 2.2:
Pastis (Ricard from Marseille)
Authentic peanuts
Music from the Mediterranean
Thursday 3.2:
Kir (white wine and black currant liquor)
Carrot and cèleri sticks
Enrique Caruso
Friday special, 4.2:
Straight and Chaser
Picon Bière (bitter orange liquor mixed in beer) OR Beer and whisky shot
Salted fried corn
Rhythm'n Blues
Saturday 5th:
Incredible Climax of the shaking dreads
(the Barmann apologizes for his absence between 19:00 and 23:00 pm due to a last minute event – so be sure to be there at 17UHR to meet him in person)
Mistery drink containing extremely expensive and mind blowing ingredients
Mistery food revealing the true identity of hidden childhood
Mistery music of the true shaking dreads prophet of ivory and ebony.
Don't miss it, because we might!
Every night remember to participate in the cadavre exquis that will be published in the next day's Zum Bulle!
BANZAI !!!
WET PLAINT
exhibition by Joel Grip
Every day between 17-19UHR:
– a painting made the same day is brought to Topsi (probably sticky oil color).
– the painting is nailed at a place on the wall defined by democratic and undemocratic collective decision making.
– drinks and snacks will be served in custom to normal vernissage behaviours
– well rehearsed (as if spontaneous) artist talks, and q&a's, and string trios, and uncomfortable talks on art and money will be presented as if we were actually not here to simply get a drink for free.
Guest appearances by at least Haydn, Ellen Musk, Dr Mistlejoke and Erdogan.